–By Brittany Torres Rivera for FIU News
Every year, ambitious sophomores at FIU's Honors College are given the distinctive opportunity of being considered for guaranteed admission at the Herbert Wertheim College of Medicine (HWCOM).
In addition to securing an acceptance of admission, the HWCOM Early Assurance Program assists students throughout their premedical planning by helping to define and broaden their academic interests and provide mentorship as the students explore and learn more about the medical profession.
This prestigious program has a less than 15 percent acceptance rate. This year, six students were selected for the fifth cohort. Among them are ER volunteers, members of various pre-health student organizations, research assistants and participants of physician shadowing programs.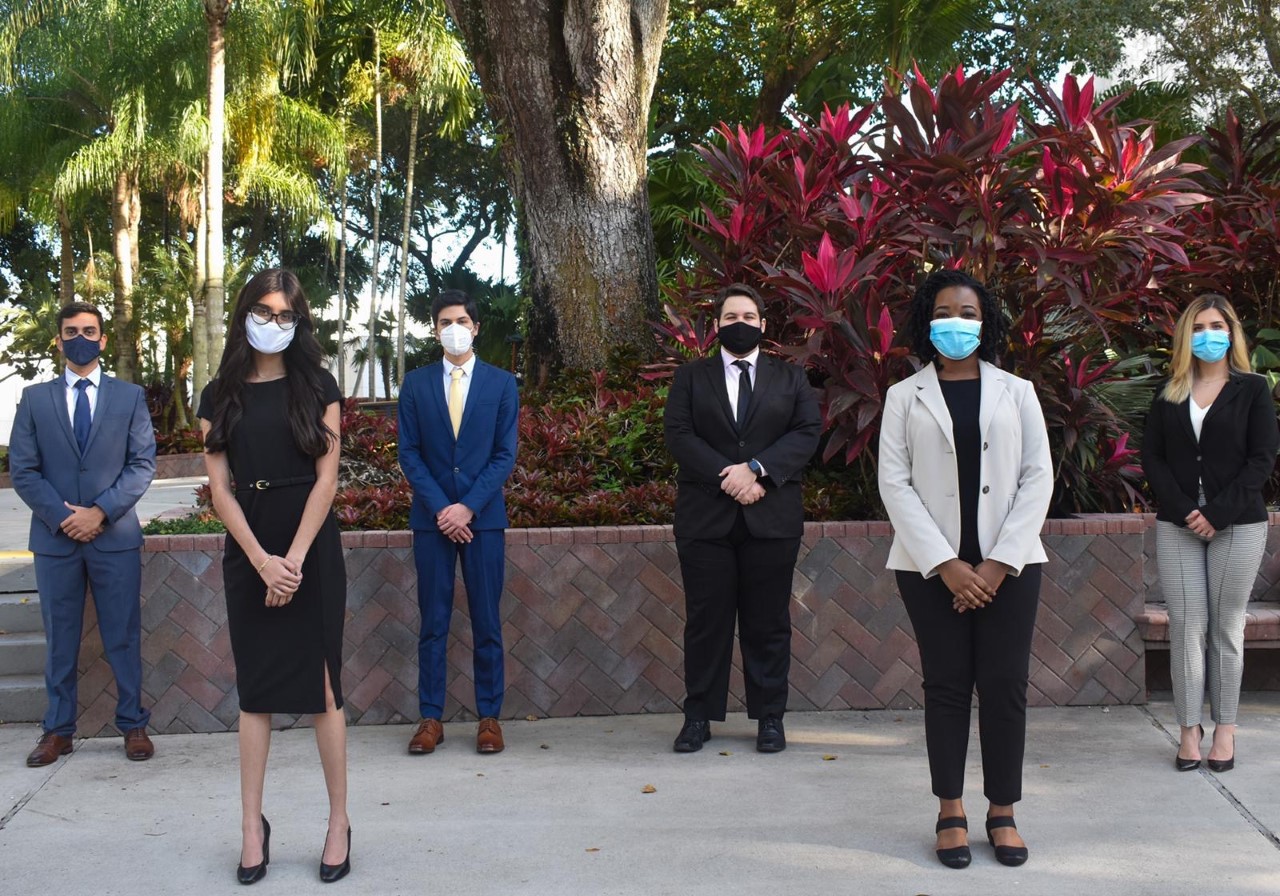 Along with being on the pre-med track, chemistry and music major Johna Denis is also an opera singer and recently performed the Star-Spangled Banner at FIU's 30th Annual Martin Luther King Jr. Celebration. Denis intends to pursue studies in otolaryngology, in particular throat and voice, driven by her passion for singing.
"As a black Haitian American female, I see the health disparities before my eyes," Denis said. "Even down to where you live, like your zip code, a group of people may be at risk of getting a disease or illness, unlike others…I want to help change that."
For nutritional sciences major Ana Reyes, the opportunity to be accepted into this program was a major contributing factor in choosing to attend FIU. Reyes wants to focus on either pediatrics or OBGYN, citing a passion for working with kids and a desire to deliver babies while helping moms through the pregnancy process.
"Being able to provide care and comfort to those in most need is my main motivation to pursue medicine," Reyes said.
Biological sciences and natural applied sciences major Alexander Rodriguez is passionate about diversity in medicine and science. Rodriguez has been the vice president of programming of Phi Delta Epsilon since 2019. He plans to go into family medicine, where he can educate his patients on the social determinants of health and encourage them to live healthier lifestyles.
"There is always more than 'one way' or 'one type' of solution to a problem," Rodriguez said.
The chance to attend FIU's medical school and have an active role in the community was biological sciences major Julio Sanchez's main inspiration to apply for the program. A student researcher with the Family Acceptance Project at the University of Miami, Sanchez likes the "dynamic nature" of medicine.
"After interacting with patients and physicians," Sanchez said, "I realized that medicine went beyond treating illnesses and the sciences that I was learning in school, and that physicians make the highest impact on patients by connecting with them at a personal level."
After touring FIU and HWCOM, biological sciences major Alycia Shariff fell in love with both. She credits her friends, family, teachers and mentors with inspiring her to apply to the Early Assurance program.
"Without them, I wouldn't have had the growth I do now," Shariff said. She plans to employ a holistic approach when treating her internal medicine patients.
"I think every person has a story to tell about their life, and I am interested in finding those stories out," Shariff said. "These stories encompass who they are today health wise and can truly unlock the answers to many of our questions."
Biological sciences major Carlos Suanes' passion for science comes from his "desire to know how things around us interact and function in everyday life." He says observing his father, a healthcare professional, showed him how powerful relationships with patients can be. Suanes is interested in oncology, although he is open to changing throughout medical school.
"The potential of having such a positive impact on patients and their families is something that drives me towards medicine," Suanes said.