When the university last summer announced an institutional effort to strengthen equity and inclusion at FIU, leadership proposed a plan of action, known as the Equity Action Initiative (EAI), to address the systemic issues identified.
Knowing philanthropy could accelerate and expand upon the university's work, the FIU Foundation created its new Foundation Office of Inclusive Philanthropy (FOIP). The FOIP brings together development professionals and community and industry partners from diverse backgrounds to inform, implement and evaluate philanthropic strategy and programming that promotes systemic change. This includes scholarships and wrap-around support services for students, increased faculty diversity, strong and inclusive advisory board governance, social equity research, cultural competence trainings, and improved health and education outcomes.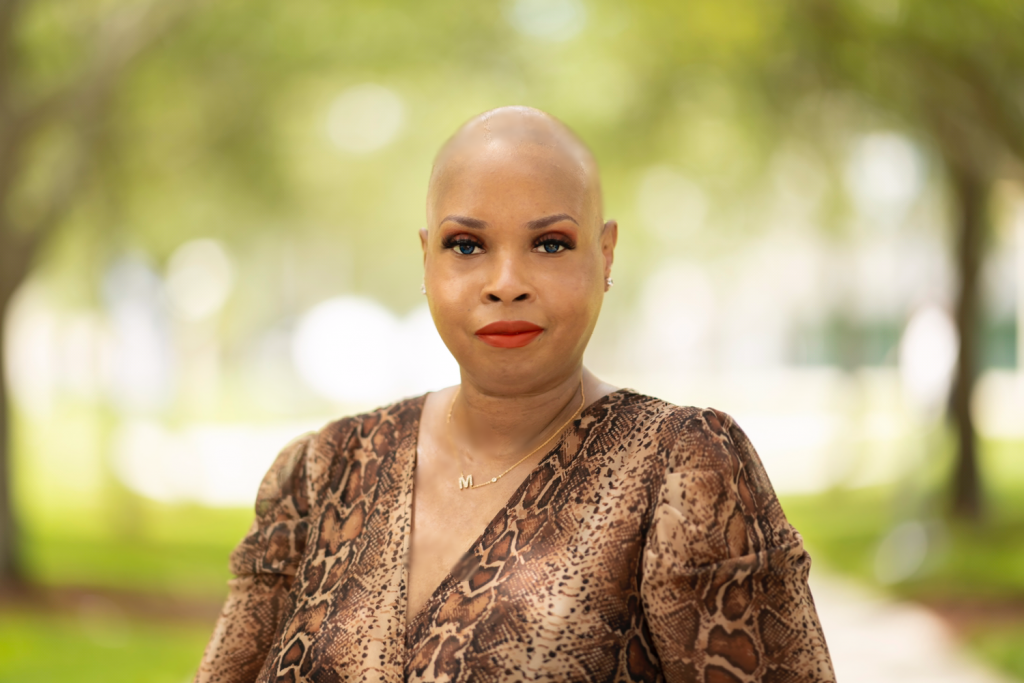 "We're working toward systemic change at the institutional level, to support areas of need identified by the university. FOIP is focused not only on eradicating barriers to success for diverse students and faculty at FIU, but it is committed to seeking out more philanthropists of color who are interested in investing in the university," said Adjua "Maia" McGill, founding executive director of the FOIP and senior executive director for foundation relations at the FIU Foundation.
On the forefront of inclusive philanthropy, a movement that is gaining momentum in the advancement field, the FIU Foundation has designated a team of diverse development officers to focus on philanthropic investment in diversity, equity and inclusion initiatives. The FOIP's central team consists of development officers, both women and men, who are members of the Black, Hispanic, Indigenous, LGBTQ+, and religious communities. They will seek advisement from philanthropists, community and religious leaders, and industry partners. The team also works with the colleges and units within the university to identify areas of need and help bridge their individual programs and services into a collective, multidisciplinary effort.
"Much of the institutional-level work laid out by the Equity Action Initiative can be bolstered by philanthropy," said Howard Lipman, CEO of the FIU Foundation. "We set out to create a development team that represents our FIU, who will work across disciplines to help effect change."
Some of the team's initial goals include:
Seeking endowments for additional scholarships and supporting wrap-around services for Black students, particularly Black males – a group which has seen decreased enrollment at FIU in recent semesters
Increasing endowed funding for faculty research and positions to attract more top scholars to the university and increase the diversity of FIU's faculty
Obtaining philanthropic funding that can sustain the positive impact and outcomes of the research and programming FIU conducts in underserved communities, beyond initial grant funding and timelines
Connecting LGBTQ+ mentorship programs and other support services that currently exist across the university but are not centralized, to unify efforts and identify areas that would benefit from additional funding
Increasing the diversity of FIU's donor base to better reflect the student population at FIU by working with more philanthropists who are women and/or people of color to identify funding opportunities at FIU that inspire them
Collaborating with other units within the university as well as community partners to host events that educate and engage the public in discourse about diversity-related issues (most recently: free film screenings and an expert panel discussion of Dudley Alexis's award-winning film, "When Liberty Burns," which depicts the life and legacy of Arthur McDuffie, whose death at the hands of police sparked the 1980 McDuffie riots in Miami)
It's work that hits home for the FOIP team. Frantz Williams, a leadership annual giving officer who heads up the initiative to support Black male students and who is himself a Black alumnus of FIU, says he "feels a personal responsibility to use my position and my privileges to help others, particularly Black males, build social capital to be successful and prosper at FIU and in the world."
FIU has many longstanding programs that support students from diverse backgrounds – such as the Ronald E. McNair Post-Baccalaureate Achievement Program, scholarships endowed for students from specific heritages and ethnicities, a medical school top-ranked by U.S. News & World Report for diversity, and more.
But in its fact-finding stages, the team interviewed FIU alumni and students, as well as community members and organizations impacted by the work FIU does. "After engaging the people most affected by systemic racism, we have found they feel underrepresented," Williams said. "If we are truly problem-solvers and solution-providers, we need to amplify and support each and every voice at the table."
Lydia "Lili" Betancourt Space, director of development for CasaCuba who will lead the initiative to support women, says that working to promote equality is meaningful to her as a Hispanic woman, but even more so as the mother of two socially conscious, teenage daughters.
More than half of FIU's students are women, and the university has a wealth of programming, research initiatives and services that seek to promote gender equity – from the Lillian Lodge Kopenhaver Center for the Advancement of Women in Communication to the annual FIU Business PowerUp Summit to the Center for Women and Gender Studies to endowed scholarships for women in STEM and other fields in which they are underrepresented, and beyond.
"Now, it's a matter of being intentional about including women – making sure women are visible and engaged in the philanthropic process is important to the impact women can create at FIU and have on our students," Space said.
Pamela Lopez Del Carmen is an annual giving coordinator for the Ignite Campaign who, along with development officer Michael Hughes, helped launched the initiative to support LGBTQA+ students. Lopez Del Carmen says the team is looking for ways to further fund and build the capacity of services and programming for LGBTQA+ students at FIU – from the Office of Social Justice and Inclusion's Pride Center to student mentorship programs to curations by LGBTQ+ artists at FIU's museums, and beyond.
As a two-time graduate of FIU and a member of the LGBTQ+ community, Lopez Del Carmen says, "It's an honor to be able to help expand these opportunities for future students and showcase the work FIU is doing to the community, as well."
"I'm now in a position where I can use my privileges, my connections and my exposure to the community to continue to elevate those resources. I'm able to not only give them the tools to be the best for our students, but I can share the opportunities our students have to blossom at FIU and in our community," Lopez Del Carmen said.
In the wake of last summer's nationwide social justice movement and following the university's announcement of its Equity Action Initiative, FIU has raised nearly $16 million for diversity, equity and inclusion initiatives, including:
$5 million lead gift from Jorge Mas and family to support the construction of CasaCuba's future home at the Modesto A. Maidique Campus. CasaCuba is FIU's center for the celebration and preservation of Cuban heritage and the study of Cuban affairs.
$750,000 from Wells Fargo in support of StartUP FIU Food to support minority food entrepreneurs affected by the COVID-19 pandemic
$150,000 faculty member legacy gift to create the Twila Mae Scholarship Endowment, which will support outstanding students at the Chaplin School of Hospitality & Tourism Management, with preference given to those demonstrating interest in Caribbean heritage
$4.6 million from the Andrew W. Mellon Foundation to support a project at FIU's Extreme Events Institute and Wolfsonian Public Humanities Lab to address racial disparities in disaster risk and resilience
$1 million from the Andrew W. Mellon Foundation to support a project at FIU's Wolfsonian Public Humanities Lab to preserve and digitize the oral histories of underrepresented communities in South Florida
$400,000 from the W.K. Kellogg Foundation to establish the Digital Transformation Program at StartUP FIU Food, an online platform to help people of color who are food entrepreneurs expand their businesses to the digital marketplace
$500,000 from NBCUniversal, which partnered with FIU and other institutions across the United States through the NBCU Academy program, to support journalism scholarships with a DEI preference, faculty support and curriculum enhancement, programming, internship opportunities, and equipment
$1.7 million from the Truist Foundation for the Truist FIU Financial Wellness Clinic to expand virtual and face-to-face financial literacy education for teachers and students in Miami-Dade County public high schools and in National Academy Foundation college- and career-ready programs nationwide
$1 million from Bank of America, which partnered with FIU and other institutions across the United States, to provide minority students micro-credential certificates and help them complete the education and training necessary to successfully enter the workforce after graduation
"Diversity, equity and inclusion practices, FOIP, and all that we're trying to do, is intended to support and appreciate the differences in others and unlock the value in those differences," said Williams. "In doing so, we can build infrastructure and new systems of equity."