–By Jessica Borsi MFA '19
"Engineering gives me the space to be logically creative," is how Jaquan Starling, Honors College student and Interdisciplinary Engineering senior due to graduate this June, describes how he likes to work.  
For Starling, engineering isn't just about building better technology; it's also about questioning the ethical and societal implications of new frontiers, including artificial intelligence (AI) and the sophisticated algorithms that will shape our lives in the future. His interest in the ethical dimensions of engineering were sparked, in part, by discussions at FIU about how the worldview and biases of programmers can transfer to their creations. That is why he switched his major from Mechanical Engineering to Interdisciplinary Engineering—a path that allows him to approach the hard sciences with a humanist lens.
It's through this line of thinking that his logical creativity comes into focus. Engineering's purpose is to create solutions, but by adding the ethical component, Starling wants to make sure those solutions are aimed at helping the greatest number of people, especially those at risk of being over-policed and disadvantaged by flawed AI. Even in technological problems, he always puts people first.
"I like engineering, I like mechanical engineering," Starling says, "but I felt it was missing this human component, a social component."
Starling decided to attend FIU when Jody Glassman, the admissions director who he had never met, recognized him in a crowd at an FIU event and called him by name.
"In that moment, I realized I was being seen as an individual, as a student, as a person, and that is how I want to come into this institution," Starling said. "That really sealed the deal for me, for FIU."
Since then, Starling's name keeps getting called. From his work as president of the Black Student Union at FIU to internships at Florida Power and Light and Verizon to research fellowships in AI and biomedical engineering, he proves his mettle as an individual, student, and person. He credits his ability to pursue these opportunities at the level he has to the Jorge and Darlene Perez Honors College Scholarship.
"The ability to not have to focus on the monetary aspect of my education, I think, is one of the main reasons I've been able to succeed so well as a student. I was able to really work on building myself up from a professional standpoint, going to career fairs, talking with companies, doing internships, and being able to really explore."
The financial benefits of the scholarship freed Starling of needing a part-time job, allowing him to invest his time into giving back to his community, involvement with the Black Student Union, and further customization of his degree with courses in business and a minor in computer science. However, the benefits aren't purely financial.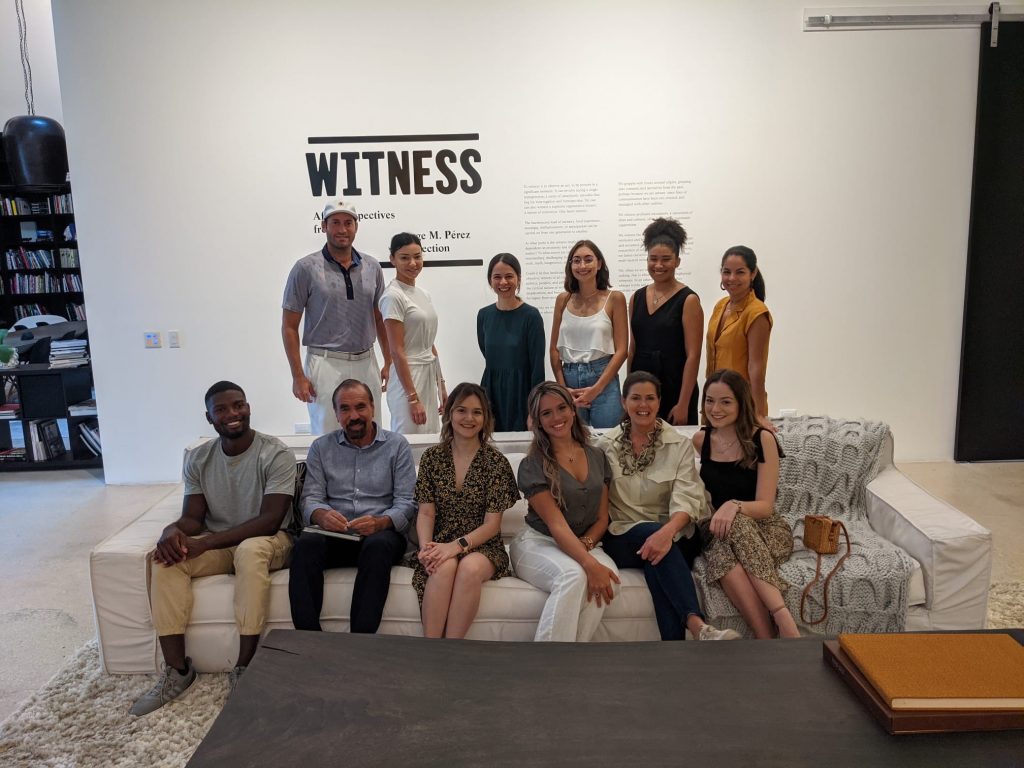 As one of five students interviewed and selected for the scholarship, Starling also gained mentors: Jorge and Darlene Perez '89, MSN '96.
"I've gotten to have lunch with them, received a personal tour from them at their museum El Espacio 23, and they have really helped me to expand my perspective," Starling says. "They've done a lot of traveling, they've been across the world, they're big into the arts."
Not content to simply support their students from afar, Jorge and Darlene Perez helped Starling learn more about the art scene in Miami. Their influence also encouraged him to delve deeper into his own creative pursuit—writing poetry.
"The Perezes have such a capacity for love and empathy and wanting to see students succeed. Just knowing that I can reach out and tell them what I've done this semester, and they'll respond back, like, 'Keep making us proud, Starling, we're so happy for you,' is powerful," he says. "Being able to have supporters in my corner who are really rooting for me has made me beyond happy."
Just like the admissions director who called his name in a crowd, the Perezes recognized Starling as an individual. Through their support, they gave him the opportunity to approach college with all his options open, refining his path as he went.
Experiencing several industries from the inside has allowed Starling to take theory he learned in class and apply it in the real world. Through this exploration and the advice of his mentors, he adjusted his trajectory toward a career where he can fully express his logical and creative talents.
After graduation, Starling will start work as a business process engineer for MITRE, a not-for-profit in Washington, DC. Ever the strategist, he knows this is just the beginning of his career, and he's keeping the possibility of further study open.
"My experience at FIU and with the scholarship, with the Perezes, has been beyond phenomenal."