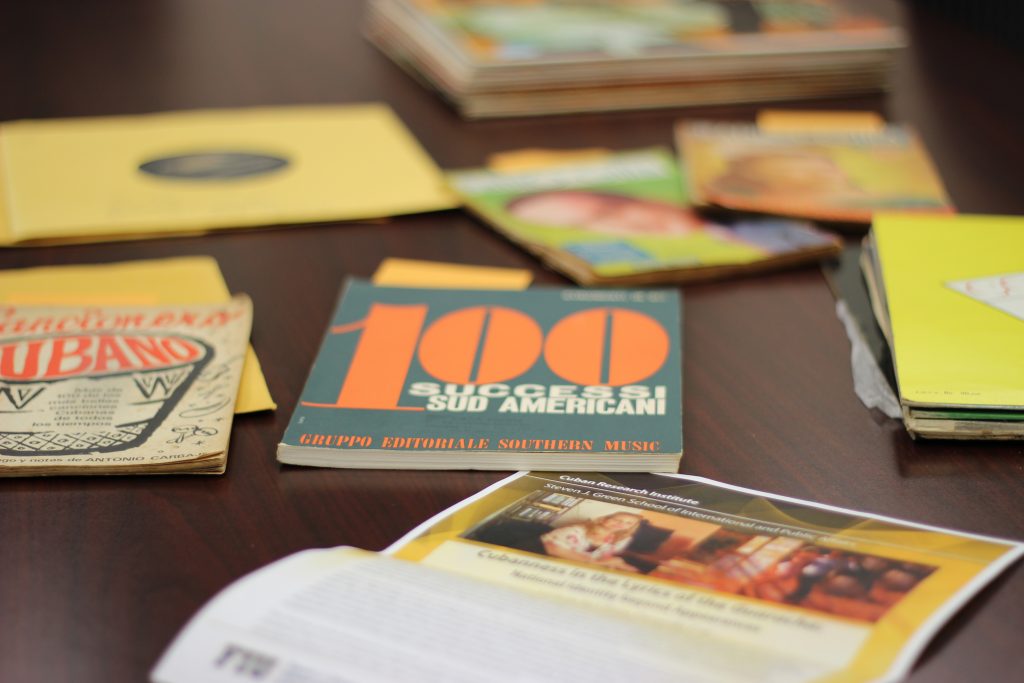 For more than 10 years, FIU Libraries, the Cuban Research Institute (CRI), and the Kimberly Green Latin American and Caribbean Center have offered Díaz-Ayala Library travel grants to scholars interested in studying the university's special collections related to Cuba and Cuban Americans. The grants provide the opportunity to conduct research on Cuba and the Cuban diaspora, an opportunity that has become increasingly important in recent years.
The United States-Cuban thaw that began in December 2014 eventually led to the first Cuban scholar visiting FIU under the auspices of the travel grant. Liliana Casanella Cué, from the Center for Research and Development of Cuban Music in Havana, Cuba, came to FIU last summer. Her project, "The Guaracha: Approaching National Identity through Its Texts," examined the relationship between the history of the musical genre and the history of the island.
Cué was excited for the chance to work with FIU's materials. Not only is the Díaz-Ayala Cuban and Latin American Popular Music Collection the most extensive publicly available collection of Cuban music in the United States, but namesake donor and prominent Cuban discographer Cristobal Díaz-Ayala is also still alive and frequently comes to FIU to help researchers with their work.
"As scholars, we build on existing materials and contribute new research, which makes these collections living and vibrant," Cué said. And because each grant recipient has different area of interest and perspective, the grants "create a productive exchange of ideas, culture, and information — and this exchange in turn creates a rich resource for students."
The Díaz-Ayala Cuban and Latin American Popular Music Collection's approximately 150,000 items span the history of popular Cuban and other Latin musics. Originally valued at nearly $1 million, the collection features 45,000 LPs; 15,000 78 rpms; 4,500 cassettes containing interviews with composers and musicians, radio programs, music, and other materials; 5,000 pieces of sheet music; 3,000 books; and thousands of CDs, photographs, videocassettes, and paper files. Among the collection's rarest items are early recordings made in pre-revolutionary Cuba.
The deadline to apply for the 2017 Travel Grant is March 1.
This post "Travel grants offer scholars chance to explore Cuban culture" was originally published on FIU News.