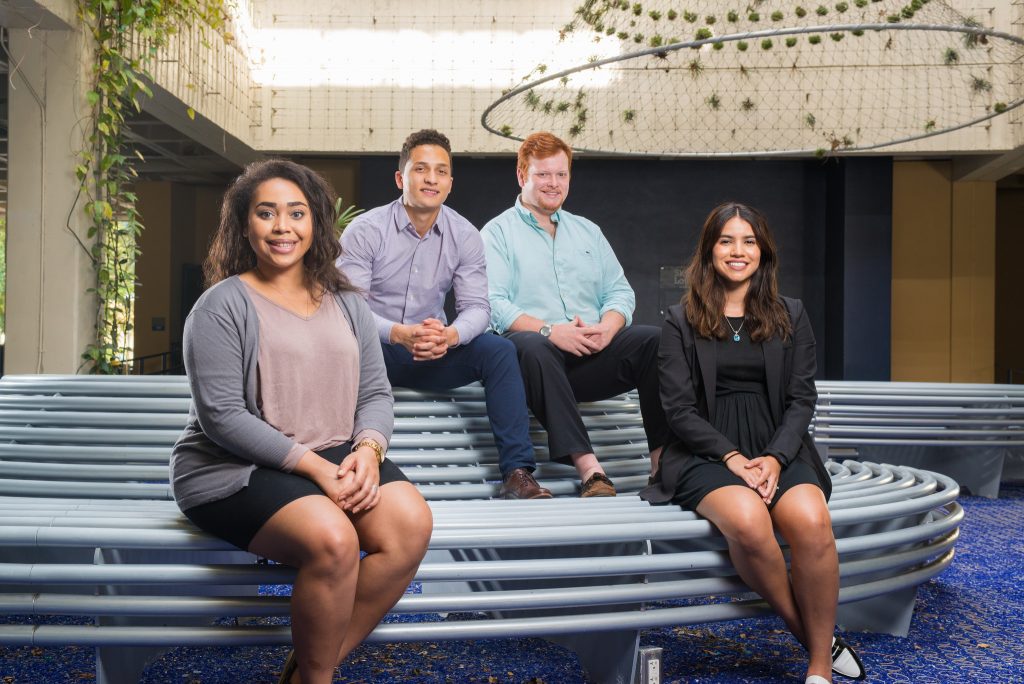 Last summer, President Mark B. Rosenberg and the President's Council — FIU's premier community relations board — set an ambitious goal of raising $200,000 for the Fostering Panther Pride program over the next year. The program was launched in 2013 and is designed to meet the unique needs of former foster care and homeless students, helping them make a smooth transition to FIU.
Less than 12 months after the goal was set, it was met. The President's Council raised more than $230,000 during the 2016-2017 academic year, the first milestone in a five-year mission to raise $1 million for Fostering Panther Pride.
The funds will be used to help program participants secure housing and meals, process homeless waivers, navigate university policies, receive referrals to resources, connect to community partners, and access academic and professional development resources.
In addition to providing former foster care and homeless students attending FIU with a success coach and mentoring program, the program helps FIU faculty conduct research to identify best practices for assisting the homeless and foster care youth population, producing a replicable model for other communities.
During the Spring 2017 semester, the program served more than 140 foster care and/or homeless students.
"At FIU we are passionate about and engaged with our students. They come first," says FIU Senior Vice President for External Relations Sandra Gonzalez-Levy, who oversees the President's Council for FIU. "Helping our students accomplish their dreams is why we are here. It's part of our DNA."
The council, which serves as the link between business and academia, is comprised of business and civic leaders who act as brand ambassadors and advocates for FIU in the community. Together, they not only raised $230,000 but also launched a series of initiatives, campaigns, and special events to raise awareness for Fostering Panther Pride.
Monica Rabassa, vice president of marketing, corporate communications, and public affairs for Univision Radio and a President's Council member, organized a Univision mini campaign, which included live television and radio interviews to promote the program.
In May, entrepreneur and FIU alumna Luly Balepogi '00, former chair of the President's Council, hosted "SPARK with Luly B." — a one-day women's conference that brought together 250 FIU administrators and South Florida professionals. The event raised another $23,000.
President's Council members Carmen-Perez Carlton '82 and Irene White MBA '86 spearheaded a partnership with Florida Power & Light and Fibernet Direct to hold a private exhibit and reception at the Frost Art Museum in March that raised $22,900.
"We had the opportunity to meet these students, hear their stories, and see how courageous they are in rising above the situations they found themselves in," says White, the external affairs director for FPL. "For many of us who went to school here, it makes you want to help. These students will be leaders in our community. There's no doubt in my mind."
Steven Marin Jr. — an FIU freshman, Honors College student and member of Sigma Chi — spearheaded an initiative and conducted his own grassroots fundraising campaign, securing $50,000 in donations from a wide variety of community leaders.
"Learning about the program and seeing that some students don't even have a place to live, I realized that we can't take for granted what we have," Marin Jr. said. "It was great to see so many people pitch in, and I believe we can really make a big impact in the years to come."
Most recently, the President's Council collaborated with Kiwanis of Little Havana, the Latin Builders Association, and the Cuban American Bar Association for "Vine & Dine," a wine and food networking reception that brought in $69,000 to support the program.
"These efforts send a message to the community letting them know that FIU is a welcoming place for people and give the program momentum moving forward," says Jerry Fernandez, president of Tropic Mechanic and chair for Fostering Panther Pride. He is also the president of the Kiwanis of Little Havana chapter. "It's wonderful to see a myriad of people from around the community come together."
This post "President's Council raises more than $230,000 for Fostering Panther Pride" was originally published on FIU News.