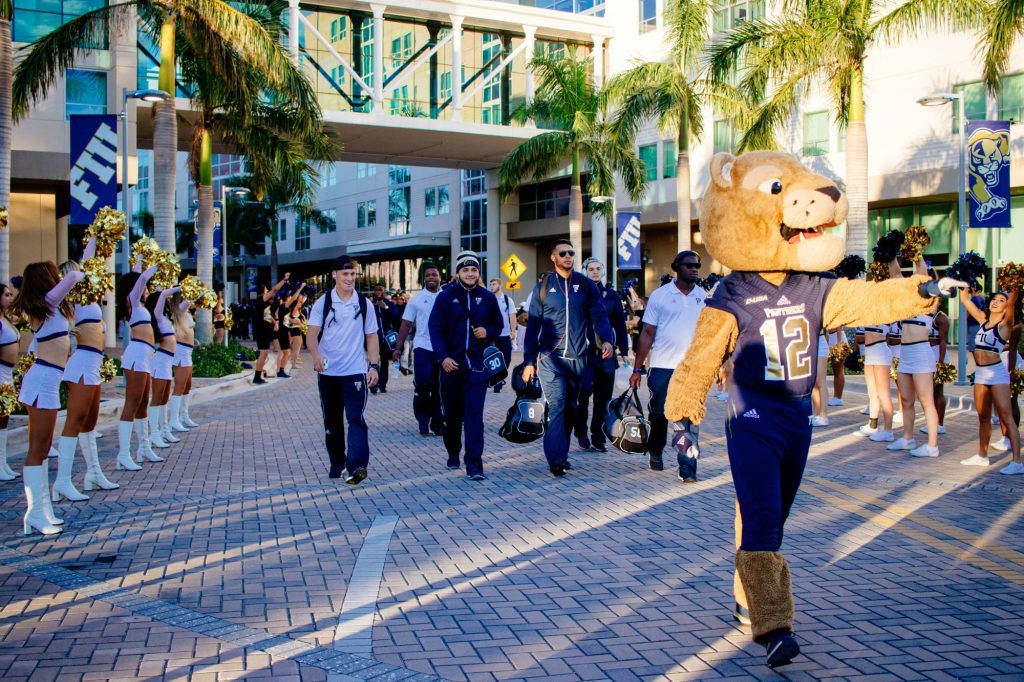 It has been a fun ride to the Gasparilla Bowl for the FIU football team.
The Panthers exceeded expectations and tied a program record for wins in a season (8). They have a chance to set a benchmark for future FIU teams if they beat the Temple Owls in the Gasparilla Bowl in St. Petersburg on Thursday, Dec. 21.
FIU was especially strong at home, winning five of six games at Riccardo Silva Stadium. The only other time the Panthers won five home games in a season was in 2002, the program's inaugural season.
A lot of the success that fans saw this season on the field was cultivated by what happened off of it.
In Davis's first season at the helm of the FIU program, he and his staff have worked tirelessly to build a positive culture within the locker room and usher in traditions for the university community to rally around.
"You have to buy into a culture where you accept responsibility for your own growth and development," Davis says. "The idea we want the players to accept is: You get on Saturday what you prepare for during the course of the week. If you prepare average, you're going to play average. But if you prepare great, you're going to play great."
The team has placed an emphasis on fitness, nutrition, motivation and academics, instituting a host of methods — some of them unorthodox. Throughout the season, for instance, the team has worked with a yoga instructor to improve flexibility.
This culture has also forged closer bonds within the team and helped set standards for future Panthers.
"It's been a lot of fun and this team, this year, we've been clicking on all cylinders," said senior wide receiver Julian Williams. "It's important to build onto something. There has to be a foundation that's set so that students that come here and student-athletes who join this team know there's a standard."
This season, the Panthers also began a tradition called the Panther Walk, where the team — joined by the FIU marching band, cheerleaders and Golden Dazzlers — is greeted by fans as they walk from Parkview to the stadium in the hours leading up to kickoff for home games.
It is one of many traditions Davis hopes will encourage the university community to get more involved with the team.
"Just for our fans to see us before the game, it builds the experience and gives people something to remember," said senior linebacker Anthony Wint. "These are the kind of traditions that we'll be talking about with teammates years from now, and it's a way to bond with future generations of Panthers."
Building culture and establishing traditions take time, but the process is being helped along with a winning season and a bowl berth. Student-athletes are buying into the process and the university community is beginning to recognize a turning of the tide.
"Guys like to do things that correlate with winning. We think a lot of the things we've done this season are going to transfer over to the next season," Wint said.
For more information about the Gasparilla Bowl and ticket packages for FIU fans who want to make the trip, go to FIU Bowl Central.
This post "New traditions set foundation for future football success" was originally published on FIU News.